Workshops

Introduction to Charcuterie (Foundation course)
This one day workshop is an ideal foundation course, designed to provide practical knowledge of basic charcuterie making. The foundation course would also suit chefs and butchers who are looking to extend their current skills.
No previous experience is necessary, just bring along your enthusiasm.
Age restrictions apply. See details below.
​

Course

 

Content (what we cover*
*
)
​

9.30 - 10.00am - Welcome

Tuck into

 

The Baker's Pig breakfast roll and a mug of tea/coffee
​

10.00 - 11.00am - Group discussion.

Pig breeds and sourcing quality pork
Learn how to break down a pig into the

 

primary cuts.

Identify and select muscle groups required to make specific charcuterie products.

The Charcutiers' tool box - essential equipment and ingredients

The principle of meat curing, fermentation and air-drying techniques and processes​

​

​​

Climate controlled environments for professional and/or home use.​

​
11.00 - 12.00 - Practical

Curing Bacon / Pancetta (to take home with you on the day)

​
​

12.00 - 13.15 - Practical

Take part in sausage making (to take home with you on the day)
​

13.15 - 14.00 - Lunch (provided)
14.00 - 14.30 - Group discussion
14.30 - 15.30 - Practical

Hot smoked, ready-to-eat sausage ​
15.30 - 17.00 - Practical

Take part in Chorizo / Nduja making (made on the day and cured in our climate controlled environment).
Your delicious products will be posted out to you in 4-6 weeks.
​

Recipe / Home curing booklet (to take home, with the delicious charcuterie goodies you've made).​​ 
Schedule:
​
9.30 - 10.00 - Welcome / breakfast

10.00am - 13.15 - Morning session

13.15 - 14.00 - Lunch (provided)

14.00 - 17.00 - Afternoon session​
Course Dates (2023/2024)
February 10th 2024

March 9th 2024

April 13th 2024
Location:
The charcuterie workshops are located on the farm, located on the edge of the Brecon Beacons National Park. Address: Ty'r Cwm Farm, Upper Brynamman, Carmarthenshire, South Wales. SA18 1DB

Looking to extend your stay? Why not stay in our lovely Airbnb holiday cottage located here on the farm and get 20% discount off the cost of the accommodation - when you book our charcuterie workshop for 2 or more guests. Note: Offer only available when booking your accommodation here. Contact us to check available dates. 
Meet the Team
Liz & Andrew Baker are the owners of The Baker's Pig - Welsh Charcuterie and will be running the courses and workshops throughout the year. They started raising free-range pigs and making charcuterie over thirty years ago and have a wealth of knowledge to share. They are both keen foodies who assert great tasting charcuterie starts in the fields... their fields.
Basic Butchery Skills
Andrew will discuss the selection of pig breeds and pork cuts used to make exquisite home made charcuterie. During the course you will learn how to break down a carcass into primal cuts and identify key muscle groups required in the preparation of traditional air-dried charcuterie products.
Is she laughing at something I said, or something she did?
Sausage making - practical session
Lots of fun to be had at this stage of the day. The sausage making session is always good fun. You'll learn how to make the perfect hot-smoked German wurst.
Once the sausages have been stuffed and tied, they need to rest for a while, before being smoked. Time for a lunch break.
Smoked Meats
You'll also learn the secrets to making great smoked meats using hot and cold smoking techniques. Smoking has been part of the charcutiers toolkit for thousands of years. Originally employed as a meat preservation technique, smoking is now used to add additional flavour and taste.
Quenching the sausages after hot-smoking
 Fermented and cured products
Next, you'll learn all about the fermentation and curing process required to create great tasting chorizo. Again, this is a practical course, so you'll need to roll your sleeves up and get a little bit messy.
These newly stuffed chorizo are ready to undergo their fermentation and curing stages in the climate controlled unit. They remain in their for about 4-6 weeks, before being posted out to you - ready to enjoy
Climate controlled Environment
During the day, you'll learn how to create and monitor the optimum environment for making the perfect salami at home. We'll take you through the basics of curing, fermentation and air-drying techniques to equip you with the necessary knowledge needed to confidently cure meats in the home.
Charcuterie Board
The workshops cover all the basic skills required to make your own charcuterie at home. On completion of the foundation course you will leave with a selection of charcuterie products you have made and a recipe booklet with details of the techniques covered during the day.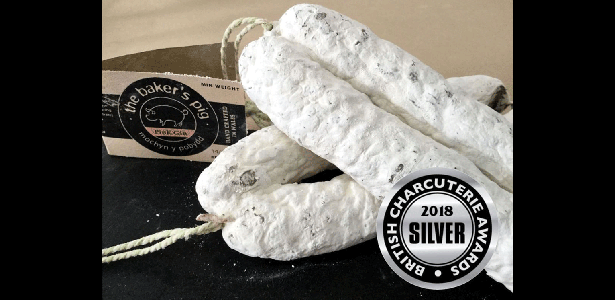 Creativity
The foundation course will introduce students to the processes required to make cured, fermented and air-dried meats. This marks the start of your own personal journey into the creative world of charcuterie. Where will you take it next?
Tasters
You'll also get chance to sample some of the delights of the day and you'll have plenty of goodies to take home too. There will be the opportunity to purchase our charcuterie products and equipment through our farm shop.
*Age Restrictions: This course is only suitable for adults and children over the age of 14 years. If you are under 16 years of age, then you must be accompanied by a paying adult.
​**Course content provides an indication of what activities you can expect on the day. The manufacture of specific products may vary due to seasonality and availability.